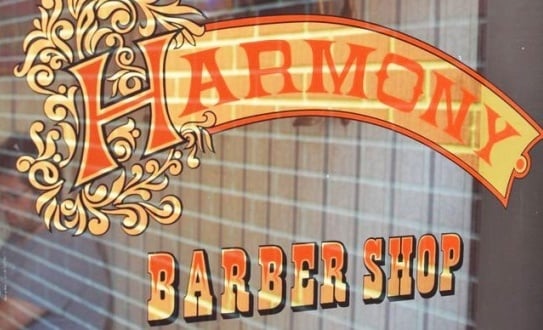 It is no secret that we love Walt Disney World. In fact, it's an obsession that runs deep in our family, and was well rooted long before Eric and I were married. Well, as many traditions as we had on our trips to 'The World' before we had children, we have created many more since.
One of our new family traditions is visiting the Harmony Barber Shop at the Magic Kingdom. We visited in March of 2008 while I was pregnant with Ella and Eric Jr was 20 months old, and boy, was it time for his first haircut! Everyone thought that our handsome little guy was a girl because of his beautiful curls, which I hated to cut, but even I had to admit that it was getting out of control.
There are only two chairs in the tiny little shop, which is nestled just beyond city hall and the car barn to the left on Main Street, USA as you enter the park. In fact, it is very easy to miss if you don't know it's there.
Eric Jr was given his first haircut by Ms. Peggy (she gave Eric Sr a haircut too). She was so good with him! She kept him otherwise occupied with toys, bubbles, and stickers so as to ease his nervousness about the haircut(this is referring to Eric Jr, in case you were curious).
Ms. Peggy wrapped a baby curl in tissue paper for me, and Eric got a certificate and a pair of mouse ears that were embroidered with "First Haircut". It was a special way for him to lose those baby curls, and certainly made this mommy feel better about her baby growing up!
When we visited 'The World' this past fall we simply had to visit the barbershop again. Eric Jr got a desperately needed haircut, and Ella was given some special treatment as well! She was so excited to get glittered up with "pixie-dust", and they did it complimentary just so she wouldn't feel left out. Another magical experience, where cast members have gone above and beyond to make special memories for our family.
If you go, you can now make appointments ahead of time (you can call 407-WDW-DINE, Disney Vacation Club Member Services, or the lobby concierge at your Disney Resort Hotel to make appointments), though you can still walk in to see if they can take you. We walked in on our last trip and were asked to come back in a half hour, in which time we did some souvenir shopping on Main Street. They were very accurate with the wait time, and we were taken right away. Hours are 9 am – 5 pm 7 days a week year round. A cut will cost you $19 for an adult and $15 for kids 12 and under(cheaper than what we pay at home!). You can also get a beard and mustache trim for $10 or colored hair gel for $5. The first haircut package is priced at $18. And remember to tip your barber!
BONUS: If you time your appointment/visit well you are perfectly positioned for the start of any daytime parades as this is where they enter! We were lucky to catch the "Move It, Shake It, Celebrate It! Block Party" as it entered Main Street, just as we were leaving the Harmony Barber Shop on this last trip. It is definitely a bonus, as it is off the beaten path and the sidewalk is generally clear.