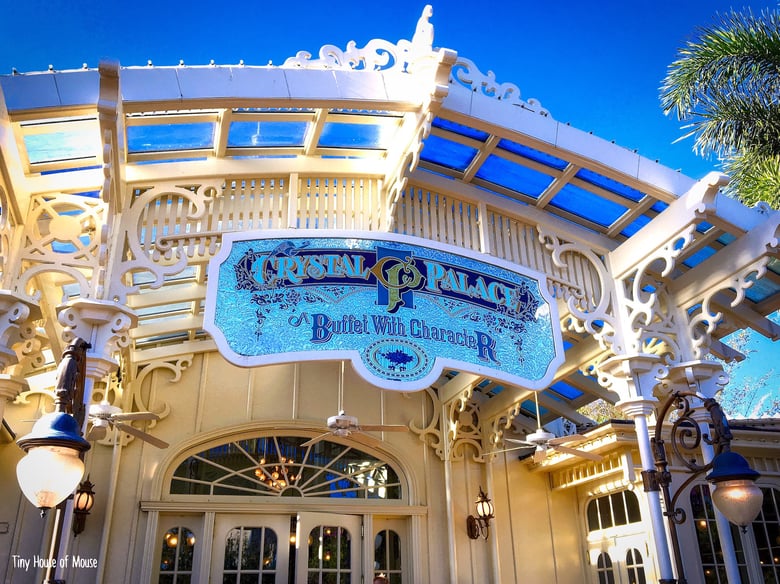 If you are headed to Walt Disney World any time in the future, I highly recommend that you make a reservation for breakfast at The Crystal Palace in the Magic Kingdom. Now, there are a lot of great character meals to be had on Disney property, but this one ranks at the top of our list. Why? The food is amazing. Without fail. Every time. The wonderful atmosphere and the characters are an added bonus, but seriously, the food. I'm salivating right now over the very thought of it.
My best suggestion is to make the earliest reservation you can, which is usually an hour before the park even opens. When you arrive at the Magic Kingdom you will be granted admission to the park (provided you have passes!), and upon entering Main Street, USA you will find an empty street with a wonderful, unobstructed view of the castle. This is the perfect time to take that much sought after family picture before heading to your reservation.
During breakfast, enjoy a visit with Pooh, Tigger, Piglet, and Eeyore (the kids can even get up and march in a parade with them!) while helping yourself to the "all-you-care-to-enjoy" buffet. There are plenty of choices for everyone in your group. Enjoy freshly baked pastries, a variety of potato dishes, pancakes, Mickey waffles, scrambled eggs, an omelet station, seasonal fresh fruits (grab a piece to take with you into the park for later too. Your server will probably suggest that you do for your kids, so don't be shy), and breakfast cereals for the pickiest of eaters. Juice and coffee are included as well.
Have a special dietary need? Let them know at the time you make your reservation, when you check in, or even speak to the chef at the buffet. Disney does a wonderful job accommodating guests (Eric Jr had a dairy and soy protein allergy once upon a time, so I know this firsthand). Do not be afraid to ask!
If you finish breakfast before the park officially opens, take a walk behind the castle to Fantasyland (or Frontierland for groups traveling with older children or adults), where you can wait for the rope drop as the park opens. You will be first in line at some of the busiest attractions, and the less waiting you do with your little ones, the better.
Breakfast hours are from 8 am until 10:30 am each day. The price fluctuates based on the time of year and park attendance but you can expect to pay between $24.49 and $28.75 for an adult, and between $13.84 and $15.97 for children ages 3-9. Remember, children under 3 eat free at buffets on Disney property (provided they are sharing with an adult).
A character lunch and dinner are also available at The Crystal Palace, but breakfast is the most budget friendly. Happy Dining!
Looking for another character dining experience? Check out my thoughts on Cinderella's Royal Table.
Thanks to AllEars.net for up to date menu and pricing information!