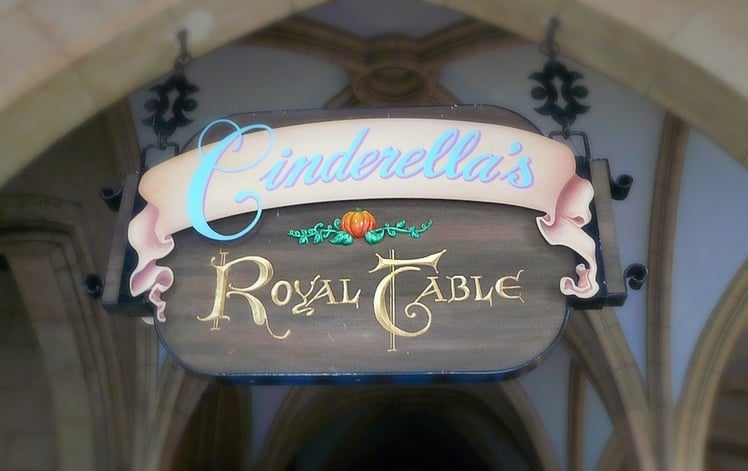 On our latest trip to 'The World' we decided to take the kids to dinner at Cinderella's Royal Table. We checked in at the castle entrance and were quickly whisked away to have a special meet and greet with Cinderella herself! The kids were so excited to meet her and have their picture taken!
After our photo op, we headed upstairs to the dining room which looks out over Fantasyland. Our server arrived and presented Ella and Evie with princess wands, and Eric Jr with a prince's sword(he was very excited, after all, he is Prince Eric). We placed our orders and our food quickly arrived. We began with an array of cheeses and fruits, which the kids loved, and beautiful seasonal salads for Eric and I.
Dinner was delicious and portioned perfectly, to leave room for dessert! I order the roasted beef tenderloin which was beautifully cooked and well seasoned. It was served with duchess potatoes, and asparagus, both of which were excellent accompaniments. Eric ordered the pork loin which was cooked to perfection, and served with a sweet potato casserole. The kids menu includes typical kids picks such as cheese pizza and chicken nuggets, along with sides of fruits and veggies, all of which were quickly gobbled up at our table.
Just as we were finishing up Cinderella's Fairy Godmother began to announce that some other princesses had arrived for a visit. With fanfare each princess was introduced and entered the dining hall. They then proceeded around the room visiting each table one at a time, and giving each child their undivided attention. The kids were thrilled to meet Snow White, Ariel, Belle, and Aurora! They all had wonderful interactions and the princesses were so engaged with the kids. It was so much fun to watch their little faces light up.
As the princesses made their way around the room we were served dessert. We had flour-less chocolate cake, custard, raspberry cheesecake, and the kids chose to decorate their own cupcakes. Everything was delicious and perfectly portioned so that you were able to enjoy everything without over doing it.
As we were finishing up, the fairy godmother told all the children to take a wishing star, hold it tight and make a wish. She then told all the children to send their wishes up to the sky, and when they did, stars magically appeared all around the room and on the ceiling. It was a truly memorable experience for our family, and one we will definitely be having again!
Here are some things you should know about Cinderella's Royal Table. It is pricey! Dinner will cost you between $65.74 and $71.83 for each adult and between $39.64 and $43.24 per child. Children under 3 can share with an adult and dine for free! If you are using the Disney Dining Plan be advised that this meal will use 2 table-service entitlements per diner. The prices fluctuate according to seasonal traffic in the parks, tax and gratuity are included in this price.
Children ages 3-9 will recieve princess wands and prince swords as gifts, and a photo package is included with your meal as well.
When you arrive at Cinderella Castle for your reservation, a photographer will be on hand to take pictures of your group in the lobby with Cinderella, before you are seated in the dining room. One image package per group of four paying guests; 2 packages for groups of 5-8 guests and 3 packages for groups of 9-12 guests. Each photo package includes:
4 prints 4″ by 6″
One print 6″ by 8″
One print 6″ by 8″ of Cinderella Castle
Cinderella-themed photo holder
The package is delivered to you during your meal. Additional photos may be purchased. These photos can also be added to your Disney's PhotoPass account!
So, would I recommend this experience to other families? Absolutely! We are currently planning our next Disney trip (already booked!) and this was the kids first pick for dining reservations. It was a special, magical night that we can't wait to have again!
Photo provided by Michael Gray