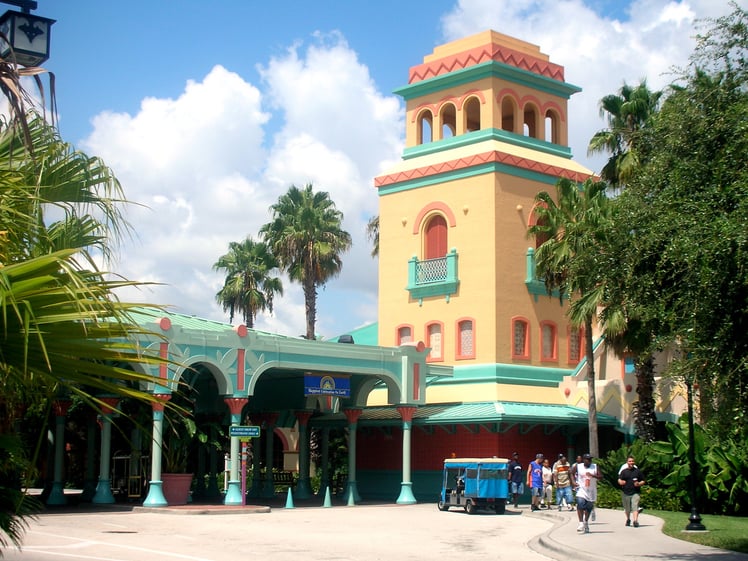 If you are planning a trip to the Walt Disney World Resort and you plan to stay on property (which you should of course!), I would like to recommend Disney's Caribbean Beach Resort. This is a resort we have stayed at many times over our years of Disney vacationing, and will be visiting again this upcoming December.
The resort features 2,112 rooms situated on 200 acres of lush tropical paradise. It is broken into 6 villages of two-story buildings named after the Caribbean islands Martinique, Barbados, Trinidad North and South, Aruba, and Jamaica, all of which is situated around a 45-acre lake called Barefoot Bay. The resort is vast, which makes everything feel secluded and calm at the end of a long day in the parks.
Each village has it's own quiet swimming pool, laundry facility, and a stretch of lakefront beach available to resort guests. We love to lay in the hammocks on the beach while the kids play in the sand for a bit. It is a great way to decompress, and leave the hustle and bustle behind.
Guest rooms are 340 square feet, the largest rooms in Disney's moderate price category, and feature two double beds that can sleep up to four. Handicap accessible rooms are also available. Rooms are decorated with a tropical feel, and are quite comfortable. For an additional cost, you can stay in 1 of 400 pirate-themed rooms, where you and your little buccaneers can sleep aboard your very own pirate ship beds. Rooms are equipped with a small refrigerator, coffee maker (with coffee), and high speed internet (Additional fee applies).
The Caribbean Beach Resort boasts both a full-service restaurant, Shutters, which serves meals such as prime rib and catch of the day, and the Old Port Royale food court, which features an array of quick service, and grab n'go options. Old Port Royale has something for everyone, serving breakfast, lunch, and dinner. Both accept the Disney Dining Plan.
Be sure to visit the resort's main pool, located just outside Old Port Royale. Here you can have a swashbuckling good time shooting canons, riding the water slide, and sailing the seven seas at this massive pirate-themed pool (I think it's the best on Disney property). Parents! There is also a poolside bar, the Banana Cabana, for your drinking pleasure!
There are three village playgrounds located in Barbados, Jamaica, and Trinidad. Kids feeling a bit a rambunctious, and adventurous, even after a long day in the parks? Take a stroll out on the boardwalk to Caribbean Cay Island in the middle of Barefoot Bay, where there is a playground hidden in a dense tropical forest!
Not into swimming or playgrounds? Rent a boat or bike at the Barefoot Bay Boat Yard and Bike Works. The 1.4 mile promenade around Barefoot Bay is the ideal spot for a bike ride or a jog. You can also take a guided fishing excursion directly at the resort. Hit up the arcade for a few games or do a little shopping at the Calypso Straw Market and Trading Post.
The resort also offers on property transportation, via Disney bus, to all Disney theme parks and destinations. Buses run at least every 20 minutes beginning 1 hour before park opening, until 1 hour after park closing.
Room rates fluctuate depending on the time of year you choose to travel, and range anywhere from $162- $307 (remember, those pirate-themed rooms cost more). Usually, you can score some sort of a deal if you are patient and check the WDW website frequently for specials (we usually travel when we can either get a free dining plan, or a 30% room discount).
If you have never planned a Walt Disney World vacation before, I recommend 3 resources to help you on your way.
1. Read my blog, especially if traveling with children. Please feel free to ask questions in the comment section below!
2. Order you FREE vacation planning DVD from Walt Disney World by clicking here!
3. Order the most recent edition of Birnbaum Guides Walt Disney World, Expert Advice from the Inside Source. A comprehensive collection of information, from planning, saving money, to what you can expect. We purchase this book every year, and read it cover to cover despite our Disney expertise. It will definitely get you in a Disney state-of-mind. There is also a kids edition which is always a hit. I've included a link below for your purchasing pleasure! The 2014 editions are available for pre-order, and will be released on September 24, 2013. Can't wait? The 2013 editions are available now!
In short, the Caribbean Beach Resort will give you that relaxing vacation feel despite the chaos of the parks. It is a quiet, secluded get away from your own hectic vacation! The Salvi's highly recommend it!
Have a Magical Day!
Photo provided by Matt Wade Photography